Pololu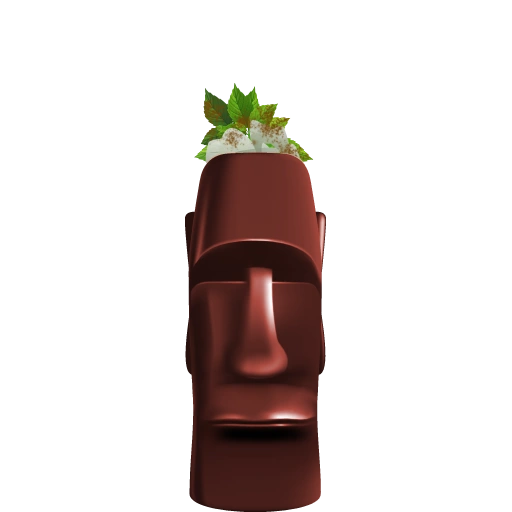 This fine drink comes from the pages of Beachbum Berry's book Remixed, credited to bartender Craig Mrusek (a.k.a. Doctor Bamboo). The Pololu has all the elements we love in a tiki cocktail: unexpected base spirits, spice-dusted fresh mint, and elderflower liqueur (they don't call it "bartender's ketchup" for nothing!)
The original recipe as documented in Remixed was a little on the sweet side, so we've followed the recommendations of some our favorite cocktail writers and toned down the elderflower and apricot components a smidge. Our favorite drinks blog, Cocktail Virgin Slut, garnished theirs with a giant sprig of mint dusted with cinnamon, an addition we heartily recommend.
Originally, this was meant to be served as a blended drink – as Doctor Cocktail puts it: "Blend with 6oz crushed ice and pour into an angry tiki mug." It's fine blended, but we prefer strained over crushed ice for a more powerful flavor and aroma. It's fun in a tiki mug, but it's just as delicious served in a rocks glass – or even straight up, in a chilled cocktail glass.

Ingredients
Instructions
Vigorously shake all ingredients with ice – make sure the cream of coconut is well-mixed. Serve over crushed ice in a tiki mug or tall glass, or strain into a chilled cocktail glass or coupe.
Garnish with a bunch of mint or a pineapple leaf, and sprinkle ground cinnamon over the top.

Get the App
The Cocktail Party app puts this drink – and hundreds more – in your pocket, and tells you what you can make from the ingredients you have at home. It's the best $3.99 you'll ever spend on a drink.

Read more
Pololu at Cocktail Virgin Slut
Tiki Tylenol, an adaptation of the Pololu by cocktail writer Doug Winship